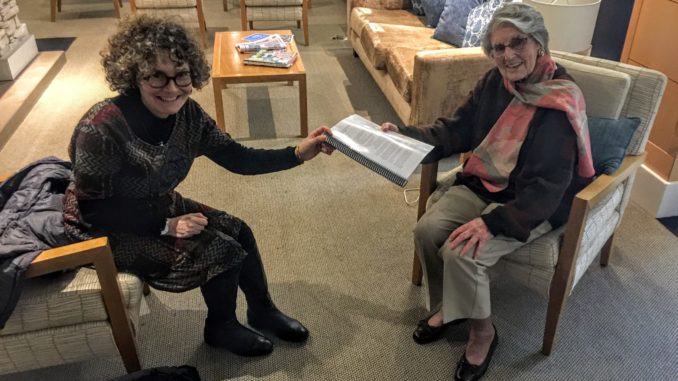 Joan Montgomery (above) receives a draft of The Vetting of Wisdom in June 2020. The book is scheduled for release in the first quarter of 2021.
Joan Montgomery (pronounced Mont-gum-ery) school principal and leader in women's education was born in July 1925, the eldest of four daughters of Beryl and William Montgomery. Headmistress of Clyde School (1960-1968) and Principal of Presbyterian Ladies' College (1969-1985), as President the Association of Heads of Independent Girls' Schools of Australia (AHIGSA), from 1979-1981, Montgomery was responsible for the move to merge it with the Headmasters' Conference of Independent Schools of Australia (HMCISA) to become the Association of Heads of Independent Schools of Australia (AHISA) which finally occurred on 26th August, 1985.
Taking the lead was something Montgomery took on board from her early years as a schoolgirl at Presbyterian Ladies' College (then based in East Melbourne). In those days it was more on the mischievous side, but an outstanding geography teacher, Miss Nora Wilkinson, became an important influence, particularly after Joan's mother's death in April 1942 when Joan was not yet 17. Joan began to take more seriously the balancing of her studies with her tennis and baseball, both of which were a major part of her life at school. She was a House Captain in her penultimate year and then a prefect in her final year in 1943 graduating with the Harris Prize for Sports and Studies.
Joan's mother's death was followed 20 months later by her father's death in January 1944, soon after Joan finished school. This left Joan the eldest of a family of four girls. Their father's cousin, Anne Montgomery, who had moved in to live with them when Beryl had died, became responsible for the girls living with them in the family home in Hawthorn. While influenced by the loss of her parents, Joan was fortunate that it did not stop her from continuing on to University and she graduated with a BA and a Dip Ed from the University of Melbourne in 1948.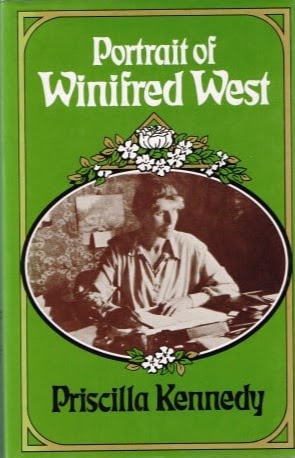 Joan's capacity for leadership continued in her 20s as a young teacher (1949-1951) at Frensham School at Mittagong in NSW, founded by one of her early mentors, the innovative Winifred West (1881-1971). Joan was often asked to take the assemblies during those early teaching years and Constance Wood, another mentor of Joan's and Principal at Tintern Church of England Girls Grammar School where Joan taught from 1955-1957, predicted that she would one day return to PLC as Principal.
Joan's stint at Tintern was in between two periods of teaching in England, the first from mid 1952 through to the end of 1954 and the next from 1958-1959. These were exciting and stimulating years. Highlights included the coronation ceremony in 1953 and the constant travel around Europe throughout both periods. An interest and willingness to travel around the globe has continued throughout her life. She returned to Australia at the end of her second trip to England at the age of 34 to take up the position of Headmistress at Clyde School at Woodend that she held from 1960-1968. Constance Wood's forecast was then realized in 1969 when Joan became Principal of PLC; a position she held until she turned 60.
The impact of Joan's leadership as Principal of these two girls' schools over 25 years is far reaching. Her many admirers, both teachers under her, and the students of the school speak of her attributes as a leader and role model. Her fellow teachers speak of her ability to attract great teachers; including teachers who had travelled, with life experiences enriching their own teaching, teachers whom she allowed the space to develop their own initiatives, confident of her support and teachers who later became Principals themselves, particularly after Joan's retirement from PLC.
Her students talk about her queen-like poise, style and elegance, her strong sense of judgment and most powerfully, the respect she commanded wherever she went. Her assemblies (over which she laboured most weekends during her principal years) setting out her values and positions on matters ranging from 'character' to 'friends' to 'peace' to 'priorities' to 'religion' and indeed to the 'Queen' left lasting impressions on her students. Her inventive ability to guide students ensured that each girl was encouraged to achieve her full potential.
In 1977, Montgomery was admitted as a Fellow of the Australian College of Education. In the same year the Uniting Church in Australia was formed, as a union of three churches: the Congregational Union of Australia, the Methodist Church of Australasia and the Presbyterian Church of Australia. However, in the lead up to this Union the Presbyterian Church split with some parishes electing to join the Uniting Church and others continuing as Presbyterian. This had a significant impact on Presbyterian Ladies' College and its brother school Scotch College, both being 'awarded' by the Property Commission of the Presbyterian Church to the continuing Presbyterians. All the other Presbyterian Church schools became associated with the Uniting Church.
A court case run by PLC and Scotch to challenge the Property Commission decision settled and new school councils were formed. In PLC's case this ultimately led in 1984 to a majority on the Council announcing it would be seeking a new Principal when Joan turned 60 despite her contract enabling both parties to renew her term until the age of 65. This drew significant protest from a minority on the council (representing the school community) and from the greater school community. The matter drew significant media attention, with public meetings and community efforts seeking to persuade the Council to change its decision. The protest did not move the majority of members on the Council and Joan retired at the end of 1985.
Montgomery then moved to live mainly in Shoreham while retaining accommodation in Melbourne, and she later fully retired in Melbourne. She has continued in her retirement to play a significant role in the community. She was on the Council of The University of Melbourne and many of its committees, together with Ormond College and Medley Hall. She has been a Board and a Committee member of the Alfred Hospital, the Human Ethics Committee of the Walter and Eliza Hall Institute, and the Animal Ethics Committee of the Baker Institute, and a continuing member of the Lyceum Club. She has also been a Council member of a range of schools including The Geelong College, Melbourne Grammar School, Woodleigh School and St Margaret's School, also acting as Chair of St Margaret's Council.
Joan Montgomery was appointed Officer of the Order of the British Empire on 12 June 1976 for her services to education and became a Member of the Order of Australia (AM) in 1986. She was also placed on the Victorian Honour Roll of Women Inductees in 2004 for her services to education.
Additional sources: Personal correspondence and interviews with Joan Montgomery.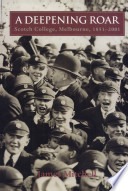 Published Resources
Books
Fitzpatrick, Kathleen, PLC Melbourne, The First Century, The Presbyterian Ladies' College, Burwood, Victoria, 1975. Details
Guile, Melanie, Clyde School 1910-1975 An Uncommon History, Clyde Old Girls' Association, South Yarra, Victoria, 2006. Details
Mitchell, James, A Deepening Roar Scotch College, Melbourne 1851-2001, Allen & Unwin, Crows Nest, New South Wales, 2001. Details
Online Resources
Montgomery, Joan Mitchell (1925 – ), The Australian Women's Register, National Foundation for Australian Women, http://www.womenaustralia.info/biogs/IMP0261b.htm. Details
THE ENCYCLOPEDIA OF WOMEN & LEADERSHIP IN TWENTIETH-CENTURY AUSTRALIA